<!–[728×90][ATF]–>
The best way to 'win' the Super Bowl if you're a commercial is to be memorably funny, or go for the heart strings . . . eight of the ten most popular Super Bowl ads last year were sentimental. That definitely wasn't the theme this...
Don't let people tell you the Super Bowl is in San Francisco this year. It's in Silicon Valley, over an hour south of San Francisco. And since people there just LOVE flashing their money around, it's how something like THIS happens. This Super Bowl...
<!–[728×90][BTF]–>
Mixmas 2015 Meet & Greet Photos featuring Adam Lambert, A great big World, Becky G, Carly Rae Jepsen. We had an incredible time, and can't wait til next year! A Great Big World Becky G Carly Rae Jepsen Adam...
Do you think regular dogs see police dogs and think… Oh crap, it's the...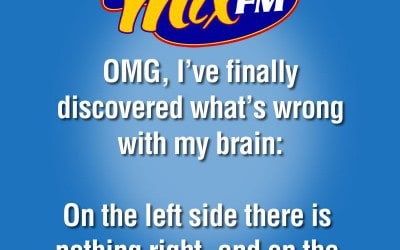 OMG, I've finally discovered what's wrong with my brain: On the left side there is nothing right, and on the right side, there is nothing...
My dentist told me I needed a crown. I was like I KNOW, RIGHT?
"America's Funniest Home Videos" just posted a clip on YouTube of a baby who can't stop laughing at the word "donkey" for some...
Discover song lyrics from your favorite artists and albums! … Lost Frequencies – Are You With Me (Official Music Video) Lost Frequencies – Are You With Me (Official Music Video) In 2014, Belgian DJ and producer Lost Frequencies took the music and the...
Demi Lovato – Cool for the Summer (Official Video) Facebook http://facebook.com/demilovato Twitter http://twitter.com/ddlovato Instagram http://instagram.com/ddlovato Tumblr http://demilovato.tumblr.com Official site http://demilovato.com Demi...
Armin van Buuren feat. Mr. Probz – Another You (Official Music Video) The world's biggest DJ and Grammy nominated producer has joined forces with multiplatinum singer-songwriter, rapper and producer Mr. Probz to create 'Another You', the first single from...
<!–[728×90][STR]–>